Automated Vehicle Identification (AVI) Achieves Major Savings
How to retain existing business logic and implement AVI in only 2 months
In simple terms, AVI automates payment sequences that normally require manual operations, such as entering cards and keying-in vehicle details.
A large Serbian bus operator, in cooperation with a regional oil company, achieved major savings by ensuring that the fuel they purchased was actually dispensed into their own vehicles. Using their existing payment system, which involved using loyalty cards, an innovative plug-in was installed in the PSS 5000 forecourt controller. This plug-in enables the PSS 5000 to use the existing payment database and control the dispensing of fuel. By combining this with vehicle tags fitted to all the buses and nozzle readers installed on the dispenser nozzles, the PSS 5000 is able to control which vehicles receive fuel.
One of the smaller buses in the fleet refuelling using AVI and driver tag authentication
One improvement in this latest project is that the nozzle reader and the vehicle tag must establish a connection and remain connected to allow fuel to be dispensed. Removing the nozzle from the vehicle stops the flow of fuel until it is replaced back in the authorized vehicle.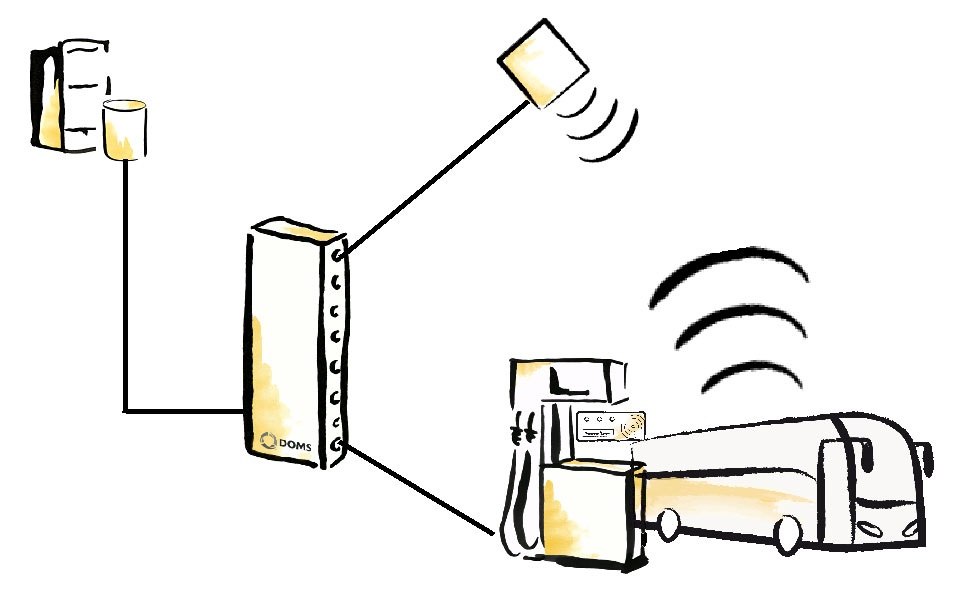 A simple illustration of a system that authorizes (secure) fuelling using vehicle inlet tags. It shows how vehicle data, in addition to that received via the vehicle tag and nozzle tag reader, is transferred from the vehicle on the forecourt via the wireless connection. Data can then be made readily available to a BOS.