PSS 5000, one controller for all solution types
Main benefits of one controller include:
Ease of maintenance
Ease and Speed of change
Ease of management
What does this mean?
Combine POS and forecourt equipment of any brands and makes
PSS 5000 offers a broad range of connectivity features such as direct network access enabling you to connect to the rest of the world.
PSS 5000 includes the software application that handles the business logic for controlling the petrol station forecourt.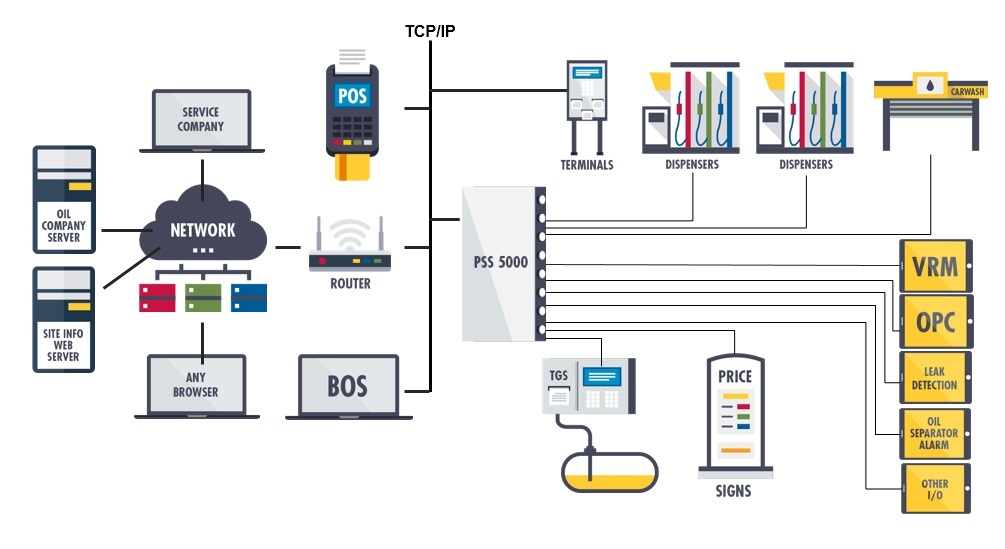 Doms offers the most reliable and proven best in class performance controller with fast deployment of the features needed to maximise your business return on investment.
| | | |
| --- | --- | --- |
| PSS 5000 | Implication | Implication |
| Interfaces to most equipment in the field and constantly updates with new equipment when available (3 times as many or more than any competitor) | Oil companies and integrators can select the forecourt equipment of their choice and are not limited to what the FCC supplier supports | Allowing oil companies the freedom to select most appropriate forecourt devices |
| PSS includes functionality that covers almost any forecourt scenario | Oil companies can get the functionality they want quickly | Fast deployment of needed features maximises the business return on investment |
| Embedded (no moving parts) | Robust and stable. Second to none uptime | Reduces cost for maintenance and maximises sales |
| Built-in web server allows remote control and minimises service costs | Maintenance – Just need internet and browser to remotely access information and do service | No need for additional system (HW/SW) to run the central service |
| From central host system via open TCP/IP based interface directly collect alarms, events, equipment status, sales information etc. | A direct connection (most efficient) | Faster deployment, less cost, easier to maintain |
| Capable and experienced development team | Constantly maintaining and adding reliable equipment interfaces | Up to date functionality |
| Capable support team | Fast response from an experienced team of dedicated professionals with a broad industry-focused knowledge | Quick resolution time |
PSS 5000 Application Versions
Use the Doms Download Center to keep up to date with the latest PSS Application versions.
https://downloadcenter.doms.com
Under Software -> PSS Appl Release Docs you can download the release documents. This enables you to see which version is the latest and what changes have occurred.